Attention Transitioning U.S. Servicemembers, Veterans, and Military Spouses!
.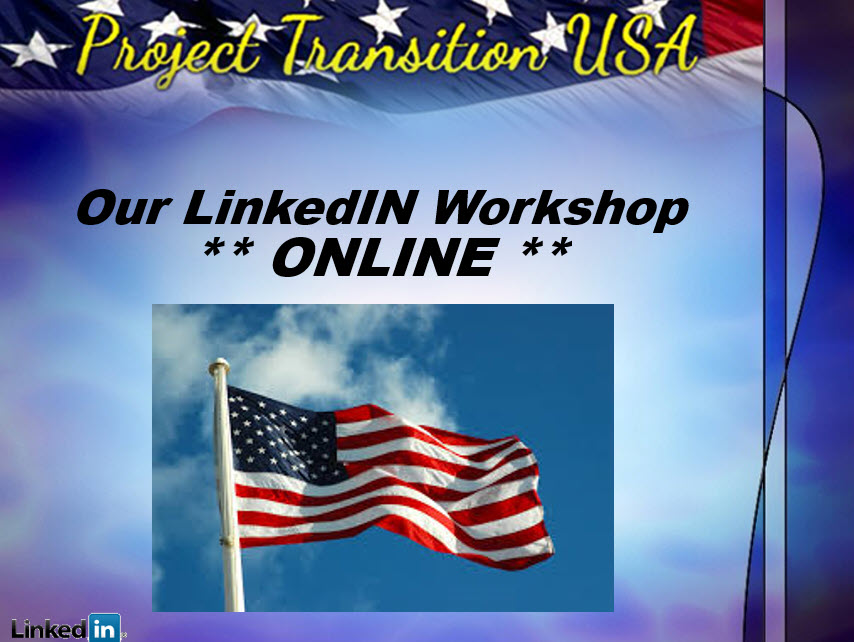 .
The first 8 videos of our new ONLINE Project Transition USA LinkedIN Workshop are ready to view in our Project Transition USA group!
If you are not yet a member, please JOIN our group via this link: https://lnkd.in/dxVQAA8
Once you are a member, use this link to access our course:  https://www.linkedin.com/feed/update/urn:li:activity:6760649787361648640

This course is dedicated with gratitude to our Senior Leaders. It is not intended for the public. It's a labor of love for those who have SERVED, and those who support them.
Video topics include:
#1 — INTRODUCTION / MINDSET
(with Bill Thetford, former Senior Enlisted Leader at JSOC, SOCOM, & CENTCOM)
#2 — LINKEDIN SETTINGS
#3 — RETIREMENT PLANNING TIMELINE
(with Kirk Windmueller, former Senior Strategic Planner at JSOC )
#4 — NAVIGATING LINKEDIN
(with Pete Blum, USMC Veteran & Asst. Instructor, MacDill AFB LinkedIN Workshop)
#5 — REINVENTING OURSELVES
(with Chris Wright, JIATF-NCR Chief of Staff)
#6 — ENGAGING WITH OTHERS
(with Greg Smith, USSOCOM Command Senior Enlisted Leader)
#7 — TRANSITION RULES FOR SUCCESS
(with Herb Thompson, author & retired Green Beret)
#8 — HOW TO USE ZOOM
(with Pete Blum, USMC vet)
.
Please SHARE this (privately) with your network!!
.
* * * * *
ADDITIONAL INFORMATION:
We are best known for teaching inspiring LinkedIN Job Search Workshops for top military leaders, providing personal introductions to VIPs, and managing the popular Project Transition USA group on LinkedIN which is frequented by military-friendly hiring managers and business celebrities nationwide.
Our first LinkedIN Job Search Workshop on a military base was held on Nov. 16, 2012 at MacDill AFB in Tampa as an optional addition to their Transition Assistance Program (TAPS).
This was the first ever in-depth LinkedIN Job Search Workshop held on a U.S. military base anywhere in the world.