Project Transition USA Welcomes Our 3,000th LinkedIN Group Member, Don Mann, Former Navy SEAL Team SIX Commando!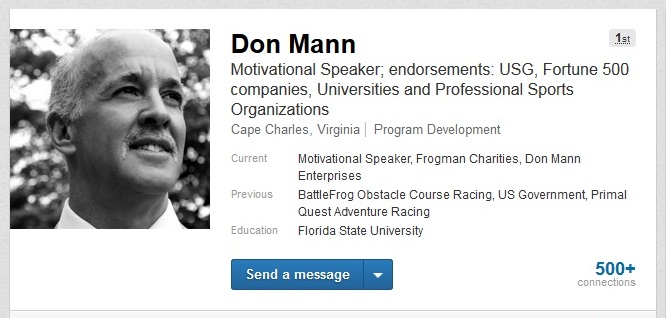 It's exciting to reach our 3,000 member milestone, and we are grateful to Anthony Almon, Retired Navy SEAL Commander, for inviting his long-time friend Don Mann to join our group.
Don's military biography includes being a decorated combat veteran and SEAL Team 6 Instructor, as well as many other credentials. He is the author of 11 books including the NY Times Best Selling autobiography "Inside SEAL Team SIX: My Life and Missions with America's Elite Warriors".
Also an endurance athlete, Don is known for producing and directing more multi-day, multi-sport, adventure races, triathlons and SEAL training events than any other person in the world. This April he will climb Mt. Everest to realize his life-time goal and "to raise awareness for the sacrifices that our veterans endure".
His 501(c)(3) nonprofit, Frogman Charities, conducts virtual run/walk events for organizations seeking to support its mission of raising $1M for nonprofits that support U.S. Navy SEAL veterans, military personnel and their families. Evander Holyfield chose to celebrate his recent 53rd birthday by completing a 5K with Don in support of this mission.
We are delighted and honored to welcome Don Mann as the 3,000th member of our group, and we are grateful to ALL our members for being a part of this life-changing community. Please join us and give Don a hearty, "Project Transition USA-style" welcome!
ABOUT PROJECT TRANSITION USA:
Project Transition USA is the only 501c3 nonprofit that specializes in teaching transitioning U.S. military veterans and their families how to fully utilize the powerful business networking site, LinkedIN.
We are best known for teaching inspiring & entertaining LinkedIN Job Search Workshops for troops, providing personal introductions to VIPs, and managing the highly-popular "Project Transition USA" group on LinkedIN which is frequented by military-friendly hiring managers and business celebrities from all walks of life.
We invite you to show your support for our troops by joining our group today!
—
Project Transition USA Group Celebrates It's 3,000th Member, Don Mann, Former Navy SEAL Team 6 Instructor