Bright House Networks has become a sponsor of our LinkedIN Job Search Workshop on MacDill AFB!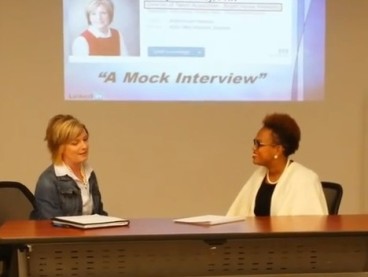 Why teach LinkedIN to transitioning troops on U.S. military bases?
Because LinkedIN.com is the #1 hiring tool for recruiters & business owners in the civilian world – and it is virtually unknown to military personnel and veterans!
Project Transition USA is the only 501(c)(3) nonprofit that specializes in teaching transitioning U.S. military veterans and their families how to fully utilize the powerful business networking site LinkedIN, and we are pleased to announce our new LinkedIN Job Search Workshop Sponsor.
Bright House Networks sponsored our November 2014 LinkedIN Job Search Workshop on MacDill Air Force Base, home of U.S. Central Command.
The sixth largest owner and operator of cable systems in the U.S. and the second largest in Florida, Bright House Networks also owns and operates two 24-hour local news TV stations: Central Florida News 13 in the Orlando area and Bay News 9 for the Tampa Bay area.
Bright House Networks' Director of Talent Acquisition, Molly McKinley, and their Diversity Manager, Brittany Harris, were active participants in the full-day workshop taught by facilitator Nancy Laine, an Army Chaplain's daughter and the co-founder of Project Transition USA
Molly McKinley has interviewed countless job candidates over the years and her current responsibilities include managing 17 recruiters. In a mock interview created especially for the transitioning military personnel attending the workshop, Molly artfully assumed the role of "interviewer", while Brittany Harris expertly played the part of a highly-qualified and well-prepared applicant.
It's no wonder Brittany was so convincing in her role — this training exercise was, in fact, a fairly close reenactment of the interview that had secured her the management position she currently holds!
Reflecting on her experience in the LinkedIN Workshop that day, Brittany later remarked, "The efforts of Nancy Laine and the Project Transition USA team are admirable, and their passion to serve those who have served our country is contagious."
She added with a smile, "I thoroughly enjoyed the opportunity to share space with the men and women at MacDill AFB and the Project Transition USA team. I am honored to have been included in such a great mission and look forward to participating again in the future."
The video of Molly and Brittany's mock interview can be found on Project Transition USA's new YouTube Channel: http://youtu.be/ivL2AZEX7qQ
The next LinkedIN Job Search Workshop on MacDill AFB is scheduled for Friday, January 23rd, 2015 and is open exclusively to transitioning military personnel & dependents who are enrolled in MacDill's TAP program.
To learn about future sponsorship opportunities with Project Transition USA LinkedIN Job Search Workshops on MacDill AFB and beyond, contact Nancy Laine at 727-415-3878.
ABOUT PROJECT TRANSITION USA:
A 501(c)(3) nonprofit organization, Project Transition USA has been teaching free LinkedIN Job Search Workshops on MacDill Air Force Base (Tampa, FL) and other locations since Nov. 2012 at the request of retired senior military officers who were in dire need of support.
In addition to their workshops, they also provide personal introductions to military hiring managers and military-friendly civilians through their popular "Project Transition USA" group on LinkedIN: http://www.linkedin.com/groups/Project-Transition-USA-4842096/about
Many workshop attendees and group participants have already been offered top-level positions throughout the U.S., and all of this has been accomplished with little to no operating budget.
Project Transition USA's goal is to expand these workshops to every U.S. military base nationwide. Visit their testimonial page to learn what transitioning military troops and community leaders are saying about this project: www.projecttransitionusa.com/testimonials/
Bright House Networks Sponsors LinkedIN Job Search Workshop on MacDill AFB