Why teach LinkedIN to transitioning troops on U.S. military bases? Because LinkedIN.com is the #1 hiring tool for recruiters & business owners in the civilian world – and it is virtually unknown to military personnel and veterans!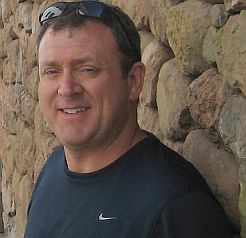 Tampa, FL — Project Transition USA, the only 501(c)(3) nonprofit that specializes in teaching transitioning U.S. military veterans and their families how to fully utilize the powerful business networking site LinkedIN, is pleased to announce their new LinkedIN Job Search Workshop Sponsor.
James Howard, Publisher of Creative Loafing Tampa, chose to personally sponsor their August 2014 LinkedIN Job Search Workshop on MacDill Air Force Base, home of U.S. Central Command.
James has served on the staff of Creative Loafing Tampa, Tampa Bay's weekly arts and entertainment publication, for close to 20 years and assumed the role of Publisher in 2010.
Creative Loafing is the third largest newspaper in the Tampa Bay area, and in addition to a comprehensive listing of local happenings (from gallery openings to sporting events), they offer the most respected and authoritative critics on the subjects of food, film, theater and music.
When asked his reasons for becoming a LinkedIN Job Search Workshop Sponsor, James replied, "Linkedin has become the #1 platform for employers and career candidates to connect online today – it makes perfect sense to teach our transitioning military and their families how to use it!"
Continuing with a smile, James added, "I have a success story of my own to share. I recently hired three great new employees, and I found them ALL on Linkedin!"
Reflecting on the experience of sponsoring the workshop taught by facilitator Nancy Laine, an Army Chaplain's daughter and the co-founder of Project Transition USA, James remarked, "I'm thrilled to have had the opportunity to help our troops on MacDill Air Force Base by sponsoring such a worthy cause, and I greatly appreciate the new connections I've made in the process!"
The next LinkedIN Job Search Workshop on MacDill AFB is scheduled for Friday, October 31st and is open exclusively to transitioning military personnel & dependents who are enrolled in MacDill's TAP program. To learn about future sponsorship opportunities with Project Transition USA LinkedIN Job Search Workshops on MacDill AFB and beyond, contact Nancy Laine at 727-415-3878.
James Howard Sponsors LinkedIN Job Search Workshop on MacDill Air Force Base