Join us as we celebrate this important milestone in support of ALL our transitioning military friends worldwide — we've been amazingly blessed with over 5,000 attendees since our first class in Nov. 2012!!
(Little did we know we were making HISTORY, and MacDill Air Force Base in Tampa still leads the way for the entire nation today!!)
We are grateful to ALL our friends for your continued support & enthusiasm for this program, and especially Troy Johnson, TAP Manager at MacDill AFB, who invited us to teach these workshops back in 2012.
A very special thank you to our 100th Class Sponsor, Avantus Federal — because of their support, our attendees will be treated to an amazing BBQ feast!!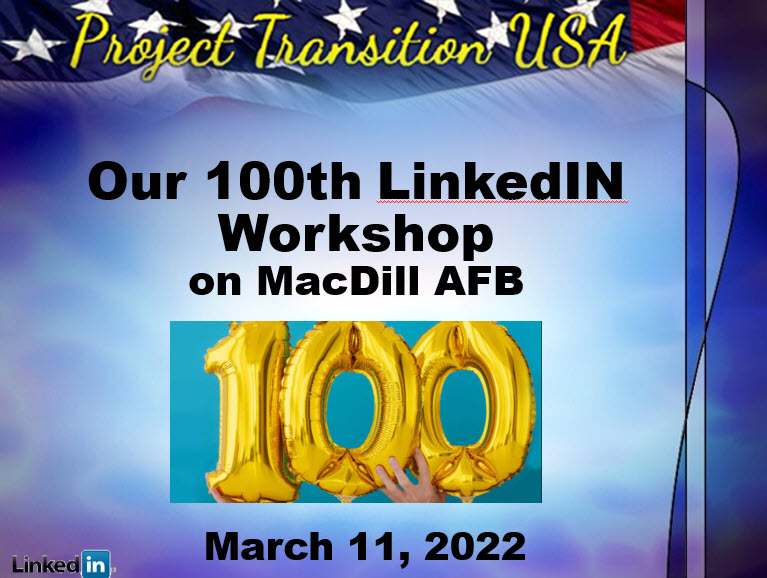 REGISTER NOW if you'd like to attend! Hours are 9am-4pm and we still have a few seats left! Call 813-828-0145 to register. Must have DOD ID and be in the TAP system.
(As a back-up option, contact TAP Mgr, Troy Johnson at [email protected], or 813-828-0138)
FREE PROFILE PHOTOS will be provided — bring business attire, your laptop, and a basic LinkedIN profile.
Sincere thanks to our 100th class volunteers:
Pete Blum, USMC & Navy Veteran (Workshop Co-Facilitator)
Kirk Windmueller, Army Veteran (Special Guest, Avantus Federal)
Stacey McKinney, Veteran Advocate (Avantus Federal)
Glenn Nielsen, USAF Veteran (Volunteer Photographer)
Stuart Smith, Army Veteran (FL Ass'n of Veteran-Owned Businesses — FAVOB)
Paul J. McAneny, USAF Veteran
William (Bill) Crowder, Veteran Advocate
Indira Lawson Cozine, Veteran Advocate
Lupe Vazquez-Mitcham, Veteran Advocate
Christina Nelson, Veteran Advocate
We are so very grateful to all our friends — (too many to mention!) — who have supported this life-changing mission over the years. Sending our love and appreciation to you all!
ABOUT PROJECT TRANSITION USA:
Project Transition USA has been providing career-related services to U.S. military veterans since 2012. We specialize in teaching transitioning military veterans and their families how to fully utilize the powerful business networking site, LinkedIN.
We are best known for teaching inspiring LinkedIN Job Search Workshops for top military leaders, providing personal introductions to VIPs, and managing the popular Project Transition USA group on LinkedIN which is frequented by military-friendly hiring managers and business celebrities nationwide.
We invite you to show your support for our transitioning troops and their families by joining our Project Transition USA group and offering your support!
To learn more about Project Transition USA's LinkedIn Job Search Workshops on MacDill AFB, visit www.ProjectTransitionUSA.org.
TIME TO CELEBRATE! Our 100th LinkedIN Workshop on MacDill AFB is March 11th!