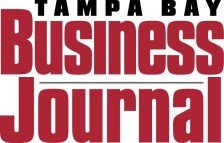 A very special thanks to the Tampa Bay Business Journal (TBBJ) for recently hosting a luncheon and roundtable discussion for a select group of Tampa Bay area veterans & military-friendly community leaders!
Our fellow Project Transition USA group member, Alexis Muellner, is the Editor of TBBJ, and he led our discussion, assisted by Deputy Editor Chris Wilkerson, and Publisher Bridgette Bello.
The main purpose of the event as I saw it was to gather information that might be helpful in coming to the aid of transitioning active duty military, as well as unemployed veterans in our area and beyond.
I had the great honor of participating along with our Project Transition USA group members Paul Huszar (President, VetCor Water Mitigation Services) and Edward Spenceley (Sr. VP, Bank of America).
And very happily, as a result of this meeting, we now have the pleasure of welcoming two new veterans to our LinkedIN group – Jerry Custin (President/CEO, Upper Tampa Bay Chamber of Commerce) and Lonnie Ledford (Project Manager, Avatel Technologies).
A few of the other participants included Tom Mackiewicz (Dir. of Site Management, USAA), Mark Swanson (Vice President, Bright House Networks), Connie Lindsay (Founder, Liberty Manor for Veterans), and Larry Braue (Dir. of Veterans Services, USF).
Lonnie Ledford has published a wonderful account of this event in his blog, and I want to share it with you here (click this link).
Tampa Bay Business Journal (TBBJ) Hosts Roundtable Discussion in Support of Veterans